SAVING DESTITUTE AND ABANDONED BABIES
"GAP Talent has signed up as a LIFESAVER in the Adopt-a-Crib programme and is sponsoring Baby Boy U who is currently in the Door Of Hope Children's Mission care."
Abandonment of infants in South Africa is, unfortunately, a common occurrence. Many of these children are left to die, or simply abandoned, in dustbins, open fields, public toilets or on train tracks. In 1999 the Berea Baptist Mission Church said, "something needs to be done". Under the leadership of Pastor Cheryl Allen, the church made a hole in their wall and a 'Baby Box' was installed allowing for mothers to leave their babies any time day or night for the church to take care of them.
The moment a baby is placed, care workers on duty receive an electronic signal alerting them. The baby is taken in and the anonymity of the "donor" ensured. News has spread and other babies have been brought personally by their mothers or have come through other means such as the police, community members, hospitals or clinics.
—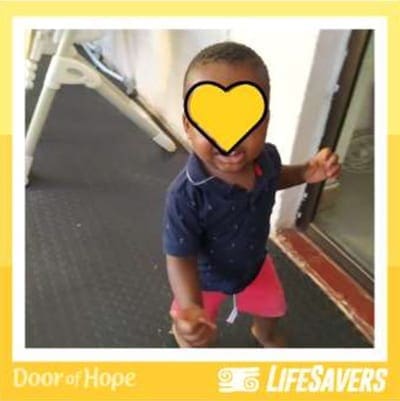 Our sweet Baby Boy U has been a part of our family for over a year now. Since he was a little baby, all the aunties described him as a gentleman.
He was never fussy and from early on was able to let his aunties know what toys he liked by looking at it rather than yelling.
Even now that he is older and can walk, ride his little scooter, and go on the swings; he is still a very gentle boy.
Baby Boy U loves being cuddled by his aunties and playing with his friends. However, his favourite time of day is definitely meal times.
Thank you to everyone at Gap Talent for partnering with us to care for our beautiful boy. As a LifeSaver in the Adopt-a-Crib programme, you are making a real difference to orphan babies.
With love and appreciation, Management, Staff, and our Babies at The Door Of Hope.